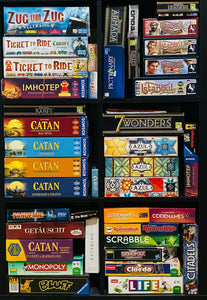 2015It all started with Catan...Like every other kid from the 90s in India, the common games that we knew were card games, monopoly, Ludo, Snakes & Ladder, etc. My husband and myself went on a trip to the US during Christmas 2015 to meet our friends. We were then introduced to Settlers of Catan. As a game we really loved it and the dynamics the game had. Quite intrigued by it, we bought our first board after our trip. Playing Catan became a routine every week. Then we started with the expansions - Seafarers, Cities & Knights, Traders & Barbarians....
---
• Ettana • History • Kanchi • Looms • Silk
When talking about Ettana and the handlooms in Kanchi, we wanted to show the world the rich cultural aspect of typical South Indian heritage with a modern flare of various weaving styles mixed with colours one would have never seen or heard of.... Through this board game.... Ettana – The Looms of Kanchi, one would explore how the weavers (players) strategize their actions with colours and patterns, with their quick thinking in order to complete the assigned designs and be the first to make "8 Annas", - Ettana, colloquially pronounced. It is a multiplayer game that challenges you to create...